Everywhere in the Mediterranean spirit drinks have been produced by macerating various herbs, spices and barks. Mallorca is not an exception. Mallorcan Hierbas is an aniseed liqueur with flavorings extracts of different plants. It is one of the most traditional drinks in the island.
A few days ago, my friend and herbalist Joan and I decided to create our own Hierbas recipe and picked up more than 30 types of herbs and plants from the mountains and our gardens. May and June are great months for plant based elaborations because their active principles are at their highest.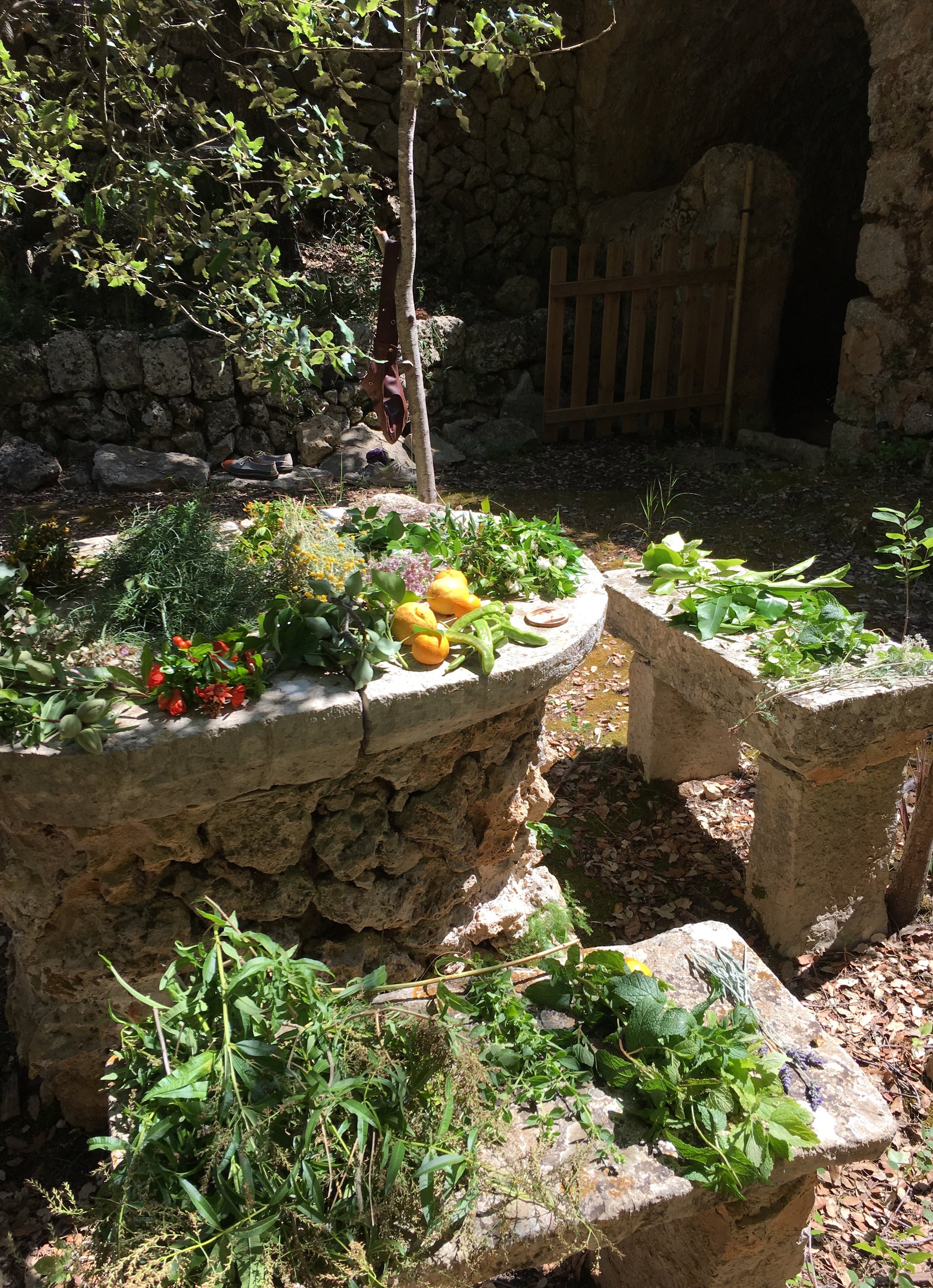 I do my best to give you something similar to a recipe, but quantities are closely link to intuition and personal taste. This is really the type of elaboration where exploring one 's preferences as well as plants sensorial interactions is a must. But there you are what we collected and did afterwards:
INGREDIENTS
Rosemary, mint, peppermint, lemon tree leaves, orange tree leaves, fennel, lemon verbena, lemon balm, pomergranate fruit and leaves, hipericum, wild thyme, camomille, oregano, vine leaf, parsimon fruit & leaf, lemon peel, tangerine peel, saint john pear, fig, pine needle, pine, green carob, green almond, wild carrot, arbusus, bush, myrtle, lavender, blackberry.
Anise Dry - Sweet
Patience
DIRECTIONS
We gave preference to herbs with sweet fragances and aroma to compose the central body: camomile, lemon verbena, mint, peppermint, lemon balm and fennel were introduced in higher proportion. Then we introduced small amounts of the others, always taking in account the very aromatic one that don't have to be abused, such as: pine, bush, myrtle or lavender.....
You can place them in any order but we started with small stuff and finish with big ones. The only rule would be to finish the bottle filling it with fennel. Due to is type of branches it will will act like a filter.
Once the bottle is full with your herbs, you have to pour in the alcohol until they are all covered in liquid. Our proportion was 60% dry anise - 40% sweet anise - This will give us Herbas Mesclades - Mixed Herbs. Leave it in a cool and dark place. Then use your patience to wait minimum for 3 months. They are ready. The bottle can be refilled with anise at least one more time.